Whiskey Tasting Featuring Jameson Irish Whiskey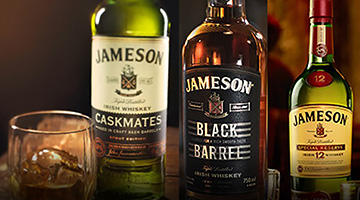 Date:
March 1, 2017 5:00pm
Cost:
$35
Reservations
Reservations Highly Recommended, Please Call 702-367-7111
The Whiskey Tasting in Cornerstone's Lounge will showcase different expressions of Jameson Irish Whiskey from Ireland. Our Jameson representative from Pernod Ricard distillers, will be onhand to share his extensive knowledge and enhance your whiskey tasting experience. Small appetizer bites will be paired to complement each Whiskey.
Four Whiskey Pours are Featured:
Jameson Blended Irish Whiskey – Ireland
Black Barrel, Select Reserve, Single Distillery
The Cooper's Croze, 86 Proof
Special Reserve, Aged 12 Years
Jameson Irish Whiskey – Ireland
Caskmates, Aged In Craft Beer Barrels, Stout Edition
Plan to attend today. Seating is limited.