New Year's Eve Bingo Blowout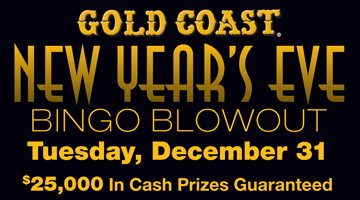 Date:
December 31, 2013 10:30pm
Location:
$25,000 in Cash Prizes Guaranteed!

$50 Buy-In • $10 Extra Packs

This is not a linked game. Doors open 9:00pm and games will begin at 10:30pm.

Free dauber, champagne, party favors, gift, hor d'oeuvres and Italian & Mexican food buffet. Players are welcome to bring their own party platters. Play will stop for local broadcast celebration. Electronic units available on first come, first serve basis with a 2 extra pack minimum. No more than 3 paper packs per seat allowed. No discounts or redemptions at this special New Year's Eve session.

Call To Purchase Tickets
To Purchase Your Tickets Please Call 702-367-7111 or 800-331-5334