Bingo Winnings All Month Long in May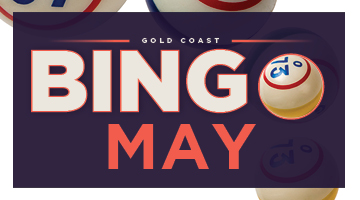 "Crazy" for Coveralls
4 - $1,000 Guaranteed Coveralls with Regular Pay Games 1-7 & 9-12
Every Friday and Saturday at the 7:00pm session and Sundays at the 1:00pm & 3:00pm sessions
4 Pack minimum is required to use the electronic units at these special sessions.
Double Action at 11:00pm
Game 1-6 pay regular
Games 7-12 excluding Game 8 pay double
First and Second Chance Coverall $250 Blue and Red, $500 Green and Tan
"Best Ball"
Every Monday and Thursday at the 11:00am, 1:00pm, 7:00pm & 9:00pm sessions.
The Cash Ball will determine the "Best Ball" for that session.
Win on the ending number receive $500.
In addition to the regular pack pay win on the cash ball receive the regular pack pay-out plus the Cash Ball prize and receive $500.00 for winning as the "Best" Ball. Aggregate payout if more than one winner. Games 1-7 & 9-12 excludes Dual Daub. Cash Ball is still valid on first chance coverall. Validation is required to win.
Player Appreciation Days
5 - $1,000 coveralls
Saturday, May 13 & 27, 2017 1:00pm and 7:00pm
Regular pay games 1-7 & 9-12 with 5 - $1,000 Coveralls
Free Mother's Day Rose Heart Keychain Pendant
Sunday, May 14, 2017
In observance Of Memorial Day on May 28th at All Sessions Win On Any Number Ending In 8 And Receive $500.
Selling seats for:
$25,000 Bingo Event June 25, 2017
$500,000 Power Bingo Event September 11 & 12, 2017
Tickets available for our $25,000 August 6, 2017 Event